Kue Sus
Posted to
Bakery
,
Dessert
,
Finger Food
,
Sweet Snack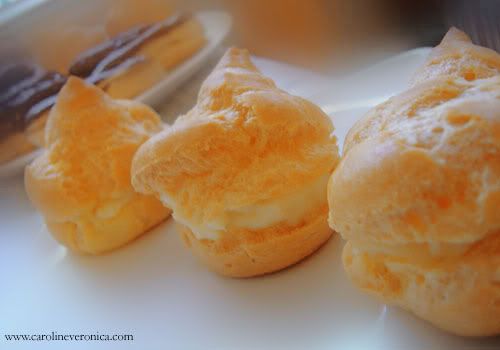 Kue Sus or Choux Pastry reminds me of my childhood in Indonesia as I ate it so often when I was growing up. My mom usually bought it from a bakery, and I never made kue sus from scratch before...luckily, my brother's gf, Siu Fang, visited me few weeks ago and taught me to make this custard puffs...yumm...
so far, I have already made this pastry a couple of times and my family loves it sooo much. Rico even ate them for breakfast, snack and dessert
Siu Fang's Kue Sus is definitely a keeper; the pastry itself is moist on the inside with a bit of crust on the outside, and the custard has a perfect sweetness & texture...yum..yum..yum..
Kue Sus
~~~~~oOo~~~~~
PASTRY:
200 ml air / water
1 oz mentega / butter
1 oz terigu / flour
3 butir telur / eggs
INSTRUCTIONS:
1. Masak air sampai mendidih. Masukkan Mentega. Aduk Rata.
Boil water and add the butter and mix together.
2. Masukkan terigu dan asuk rata.
Add the flour into the mixture and mix.
3. Taruh adonan di wadah lain dan masukkan telur. Mixer hingga rata.
Put the paste into the mixer and add in the eggs. Beat it until well blended.
4. Di oven selama 35 menit dengan suhu 180 derajat Celcius atau 365 derajat Farenheit.
Bake at 365 F for 35 minutes.
CUSTARD:
450 cc susu / milk
65 gr maizena / corn starch
1 kuning telur / egg yolks
1 sdm rhum / tbs rhum
1 sdm mentega / tbs butter
1 oz gula / oz sugar
INSTRUCTIONS:
1. Campur susu dan maizena, kemudian masak sampai mendidih.
Mix milk and cornstarch. Cook until boiled.
2. Masukkan kuning telur, mentega, dan gula. Aduk rata.
Add egg yolk, butter, and sugar. Mix until blended.
3. Masukkan rhum kalau adonanan sudah dingin.
Add the rhum when the custard is at room temperature.